Skip to product information
Brand: Thermacell
Prevention: 12 Hours
Type: Mosquito Repellent Refills
EPA Registration Number: 71910-2
Pest Type: Mosquito
Indoor/Outdoor: Outdoor
Number in Pack: 10
Control Method: Repel/Deter
Model: R10
MPN: R10
UPC: 181752000651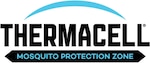 Original Mosquito Repellent Refills, 120 Hours, 10 Pack
R10
NEW!!
Stock up on your Thermacell for a season's worth of repelling mosquitoes with this Mega Pack.
 Use the cartridges independently or in conjunction with the mats to repel mosquitoes from an entire zone. 
Each mat and each cartridge repels mosquitoes for roughly 4 hours and 12 hours respectively. 
The cartridges fit most compatible repellent appliances and lanterns. 
Both the mats and the cartridges contain a potent synthetic copy of allethrin, 
a natural mosquito-repelling ingredient found in chrysanthemums. 
The mats are quite user-friendly and safe, requiring no fire or wax to ignite.
~~~~~~~~~~~~~~~~~~~~~~~
All of our products are BRAND NEW in the box;
and contain all of the parts, materials and documentation.

You can expect and will receive prompt delivery of your item.
We will ship your order within ONE DAY!
We are unable to accept returns on used, fitted, or altered parts. 
Returns must be in new, unused condition and in their original packaging.