Skip to product information
Brand: thermacell
Prevention: 48 Hours
Type: Mosquito Repellent Refill
EPA Registration Number: 71910-2
Pest Type: Mosquito
Indoor/Outdoor: Outdoor
Number in Pack: 4
Control Method: Repel/Deter
Model: R4
MPN: R4
UPC: 181752000224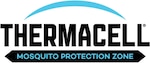 Mosquito Repellent Refill, 4  Pack with 12 Mats, 48 Hours of Protection
R4
NEW!!
How often has your outdoor time been interrupted by 
The annoyance of insect bites can be enough to cause the most passionate outdoor lover to reconsider heading outside. 
Thermacell keeps mosquitoes away without spray and offers 
a trusted and highly effective solution. 
With an innovative repellent technology that provides an invisible, 
scent-free 15-foot by 15-foot zone of mosquito defense, 
users can venture into the great outdoors without the dread of mosquito bites.
 Thermacell Mosquito Repellent Refills, containing 12 repellent mats and 4 fuel cartridges, provide 48 total hours of protection more than a full day's worth of spray-free, scent-free and DEET-free bug protection evaluated by the EPA for safety and effectiveness.
12 repellent mats and 4 fuel cartridges
Odorless, no spray mosquito protection
No oily, messy lotions or sprays
Compatible with any fuel-powered Thermacell repeller, lantern or torch; Thermacell refills keep outdoor adventurers on-the-go: hikers, campers, backpackers, farmers, ranchers, scouts and hunters
Enjoy an effective 15-foot by 15-foot invisible zone of protection against pesky mosquitoes at the pool, beach, lake, campsite, ranch, cabin, ball field or trail
No-DEET or On-Skin Chemicals – Original, scent-free Thermacell Mosquito Repellent delivers effective no-spray zone of protection covering 15-ft zone; protects against mosquitoes without the mess
Long-Lasting – Contains 12 repellent mats lasting 4 hours each and 4 fuel cartridges lasting 12 hours, delivering 48 hours of mosquito protection; conveniently stop and start as often as needed
Trusted and Highly Effective – Innovative zone mosquito repellent technology from Thermacell provides a mess-free and DEET-free solution much more effective candles or torches
Universal Fuel Powered Thermacell Refill – Refills work with any fuel-powered Thermacell repeller, lantern or torch; easily replace repellent cartridges and mats according to device instructions
Portable and Easy-to-Use – Enjoy outdoor adventure, seize the day and keep bugs at bay, whether relaxing, barbequing, camping, backpacking, fishing, boating, hiking or enjoying the backyard
~~~~~~~~~~~~~~~~~~~~~~~
All of our products are BRAND NEW in the box;
and contain all of the parts, materials and documentation.

You can expect and will receive prompt delivery of your item.
We will ship your order within ONE DAY!
We are unable to accept returns on used, fitted, or altered parts. 
Returns must be in new, unused condition and in their original packaging.