Skip to product information
Brand: Thermacell
Prevention: 90 Hours
Type: Mosquito Repeller
EPA Registration Number: 71910-2
Pest Type: Mosquito
Color: Red
Model: MRBPR
MPN: MRBPR
UPC: 843654002163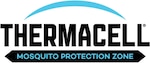 Backpacker Mosquito Repeller
MRBPR
NEW!!
The Thermacell Backpacker Mosquito Repeller effectively repels mosquitoes by creating a 15-foot zone of protection. 
Utilizing the same camping gas canisters (not included) that 
backpackers and campers likely have in their bag already, 
the compact and lightweight Backpacker Repeller is an 
essential piece of gear.
 It's also ideal for use while fishing, gardening, hunting, 
around the backyard, and more.
Features:
Runs on a backpacking stove fuel canister (not included)
Fuel efficient: 
up to 90 hours of run time on a 4 oz canister and up to 
360 hours on a 16 oz canister
Fuel canister must be pressurized self-sealing (iso)butane and 
propane fuel mix (product will not function with 100% propane)
Lightweight, minimalist design that shaves ounces and 
inches out of your pack (114g/4.0 oz). 
Compact and portable (97mm H x 50mm W x 67mm L).
Dependable performance up to an elevation of 7,000 feet
No spray and no mess. Scent-free and DEET-free.
Usage Tips: 
Do not attempt to use with refilled canisters, Allow gas to flow for 5 seconds before clicking the piezo ignitor, and Only compatible with valves designed to the EN417 specification
Package contains: 
1 Backpacker Repeller, 16 hours of repellent - 4 repellent mats lasting 4 hours each, and 1 water-resistant travel bag. 
Requires camping gas canister (not included)
~~~~~~~~~~~~~~~~~~~~~~~
All of our products are BRAND NEW in the box;
and contain all of the parts, materials and documentation.

You can expect and will receive prompt delivery of your item.
We will ship your order within ONE DAY!
We are unable to accept returns on used, fitted, or altered parts. 
Returns must be in new, unused condition and in their original packaging.