Skip to product information
Caliber: 300 Blackout
Model: Bullet Puller
MPN: UP101
Brand: Forster Products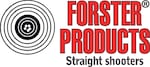 Universal Collet Style Bullet Puller 
UP1010
NEW!!
The Forster Universal Collet-Style Bullet Puller 
grasps the bullet firmly and will not slip. 
In fact, the pull from the loading press actually tightens the 
grip on the bullet as it is removed. 
This reduces the chance of damage to the brass or bullet. 
The carefully constructed, solid steel collet is the feature that distinguishes 
this puller from others on the market. 
Forster Collets sold separately.
Fits: 
Most Presses with 7/8"-14 threads
Notes: 
Not an inertia type bullet puller, this bullet puller will now 
accommodate the WSM and WSSM length cartridges
~~~~~~~~~~~~~~~~~~~~~~~~~~~~~~~
All of our products are BRAND NEW in the box; and contain all of the parts,

materials and documentation.
You can expect and will receive prompt delivery of your item.
We will ship your order within 
ONE DAY!