Skip to product information
Gauge/Caliber: Any
Model: Die-G-10-Dozen
MPN: Die-G-10-Dozen
Country/Region of Manufacture: United States
Ammunition Type: Rifle
Brand: Forster Products
Type: Die Lock Rings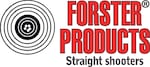 Cross Bolt Die Locking Ring, 3 PACK!!!
7/8"-14 Thread
NEW!!
The Forster die locking ring features an easy to use cross bolt
 that connects the two ends of the ring instead of a traditional 
screw style design that tightens directly into 
the threads of the die.
 This results in a more precise connection of the locking ring threads
 to the die threads and a more reliable alignment with no canting and 
no damage to the die threads.
 Fits all standard 7/8" x 14 dies 
from most manufacturers.
~~~~~~~~~~~~~~~~~~~~~~~~~~~~~~~
All of our products are BRAND NEW in the box; and contain all of the parts,

materials and documentation.
You can expect and will receive prompt delivery of your item.
We will ship your order within 
ONE DAY!