Skip to product information
Brand: Apex Tactical
For Gun Make: GLOCK
Type: Trigger
Gauge/Caliber: 9 mm Luger
Specific Part: Trigger
Color: Blue
Model: 102-P175
MPN: 102-P175
Material: Polymer
For Gun Type: Handgun
Country/Region of Manufacture: United States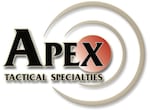 Polymer Action Enhancement Trigger Kit, BLUE!!
For: Gen 3/4
102-P175
NEW!!
For Glock Models:
17, 17L, 19, 22, 23, 24, 26, 27, 31, 32, 33, 34, 35
A must for any Glock owner the Action Enhancement Kit features the Apex Polymer Action Enhancement Trigger with a Gen 3 trigger bar, an Apex Ultimate Safety Plunger and an Apex Performance Connector. 
Together, these drop-in parts will:
 Reduce trigger pull weight by approximately 1 lb.
 Reduce trigger pre-travel, overall travel and reset distance
Smooth uptake and reset
 Crisp trigger break
 Center mounted pivoting safety maintains factory safety values
 Direct drop-in replacement parts, no fitting required
 Trigger bar finish may vary (Matte Nickel or Bright Nickel finish)
Does Not Fit These Guns
Does not fit the 10mm, .45 ACP, or .45 GAP caliber Glock models.
Not for use in Gen 5 models.
Not recommended for use in aftermarket frames.
Notes
Certified for use in the Glock factory frame only
What's Included:
1 ea. Apex Polymer Action Enhancement Trigger w/ Trigger Bar (Matte Nickel or Bright Nickel Finish)
1 ea. Apex Ultimate Safety Plunger for Glock
1 ea. Apex Performance Connector
~~~~~~~~~~~~~~~~
ALL MANUFACTURERS WARRANTIES WILL APPLY !
All of our products are BRAND NEW in the box; and contain all of the parts, materials and documentation.
You can expect and will receive prompt delivery of your order.
We will ship your order within ONE DAY! 
We are unable to accept returns on used, fitted, or altered parts. 
Returns must be in new, unused condition and in their original packaging.