Skip to product information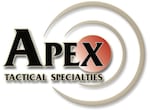 Failure Resistant Extractor 
For: Springfield Armory Hellcat
115-090
NEW!!
The Apex Failure Resistant Extractor for Springfield Armory Hellcat pistols is designed to 
ensure consistent and reliable extraction. 
The extractor is machined from a billet of 
heat-treated stainless steel. 
The critical engagement surface features Apex's custom 
extractor hook geometry.  
Melonite finished for enhanced durability.
For Use In These Guns
For use in all current models of the Springfield Armory Hellcat
Does Not Fit These Guns
NOT for use in any other Springfield Armory model pistol beside Hellcat
~~~~~~~~~~~~~~~~
ALL MANUFACTURERS WARRANTIES WILL APPLY !
All of our products are BRAND NEW in the box; and contain all of the parts, materials and documentation.
You can expect and will receive prompt delivery of your order.
We will ship your order within ONE DAY! 
We are unable to accept returns on used, fitted, or altered parts. 
Returns must be in new, unused condition and in their original packaging.