Skip to product information
Brand: Apex Tactical Specialties
For Gun Make: S&W SHIELD M2.0 9mm/40
Type: Action Parts
Gauge/Caliber: .40 S&W, 9mm Luger
Custom Bundle: No
Color: Black
Model: 100-176
MPN: 100-176
Material: Aluminum
For Gun Type: N/A
Vintage: No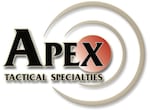 Apex Tactical Duty/Carry Action Enhancement Kit (AEK) 
For:
S&W M&P Shield M2.0 9mm, 40 S&W
NEW!!!
100-176
The Trigger return spring sets the trigger pull weight into the 5-5.5lb. range.
 Striker Block Spring provides a smooth uptake and reset. 
Sear Spring aids in returning the Sear to its ready to fire position and maintains trigger pull weight. 
Shield Slave Pin is used to hold tension on the trigger return spring during installation.
Kit Includes:
Apex 1-Dot Fully Machines Sear
Shield Trigger Kit (Trigger Return Spring, Ultimate Striker Block, 
Striker Block Spring, Sear Spring (1/8") & Polymer Slave Pin).
Features:
Reduces trigger pull
Reduces trigger pre-travel and over-travel
Smooth uptake and reset
ALL MANUFACTURERS WARRANTIES WILL APPLY!
All of our products are BRAND NEW in the box; and contain all of the parts, materials and documentation.
You can expect and will receive prompt delivery of your order.
We will ship your order within ONE DAY! 
We are unable to accept returns on used, fitted, or altered parts. 
Returns must be in new, unused condition and in their original packaging.