Skip to product information
For Gun Make: Smith & Wesson
Gauge/Caliber: 9mm, .40S&W, 10mm, and .45ACP
Specific Part: Trigger Kit
Color: Red
MPN: 100-P154-R
Material: Polymer
Material/Finish: Black Polymer
Vintage: No
Brand: Apex Tactical Specialties
Type: Trigger
Model: 100-P154-R
For Gun Type: Handgun
Country/Region of Manufacture: United States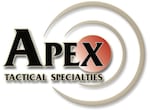 Polymer Flat-Faced Forward Set Trigger Kit, RED
For: M&P M2.0
100-P154-R
NEW!!
Nothing compares to the performance that comes from the patented 
Apex Forward Set Trigger Kit.
 This kit is engineered to provide the M&P M2.0 pistol owner with a 
smooth, consistent trigger pull with the advantages of shorter 
over-travel and shortened trigger reset.
 Using a combination of the Apex springs and factory springs 
allows the user to set up the trigger pull weight within a range
 suitable for duty/carry down to a weight desired for competition.
- Reduce trigger pull weight by approximately 2lbs
- Reduce overall trigger travel by approximately 40%
- Reduce trigger pre-travel, over-travel and reset distance
- Smooth uptake and reset
- Crisp trigger break
- Center mounted pivoting safety maintains factory safety values
- Direct drop-in replacement parts, no fitting required
- Same upgrades as our Forward Set Trigger Kit for M&P M2.0 in a budget-friendly option!
For Use In These Guns
For use in all M&P M2.0 pistols in 9mm, .40S&W, 10mm, and .45ACP, including the Full Size, Standard, Compact, and Subcompact.
EXCEPT for the Shield and Shield M2.0
Does Not Fit These Guns
Not certified for use in the M2.0 Metal Series models.
Not for use in the original M&P or in any M&P Shield models.
What's Included
1 ea. Polymer Flat-Faced Forward Set Trigger
1 ea. Apex Forward Set Sear Actuator
1 ea. Apex Fully Machined 2-Dot Sear
1 ea. Heavy Duty Sear Spring (Purple)
1 ea. Duty/Carry Sear Spring (Silver)
1 ea. Heavy Duty Trigger Return Spring (Green)
1 ea. Duty/Carry Trigger Return Spring (Silver)
1 ea. Ultimate Striker Block
1 ea. Striker Block Spring
1 ea. Apex Sight Tool
1 ea. Polymer Slave Pin
ALL MANUFACTURERS WARRANTIES WILL APPLY !
All of our products are BRAND NEW in the box; and contain all of the parts, materials and documentation.
You can expect and will receive prompt delivery of your order.
We will ship your order within ONE DAY! 
We are unable to accept returns on used, fitted, or altered parts. 
Returns must be in new, unused condition and in their original packaging.